Tuesday, October 15, 2013
Another The Walking Dead premiere.
Sunday's zombie drama return delivered a huge 16.1 million viewers and an even-more-stunning 8.2 rating among adults 18-49. That's up 30 percent in the demo from the show's previous high (the season 3 finale).
The Walking Dead also once again has crushed the broadcast networks: This is the largest telecast of the fall in the adult demo, beating all entertainment shows. In fact, if you combine all the broadcast dramas that aired Sunday night — Once Upon a Time, Revenge, Betrayal, The Good Wife and The Mentalist — they still don't match The Walking Dead's demo rating.
AMC claims the hour also has topped all sports telecasts this fall. That would be a rather enormous accomplishment (last fall The Walking Dead "only" beat all entertainment shows, not including sports). And that claim certainly appears to be accurate, at least if you define "fall" as the official start of the broadcast season in late September — some broadcast pre-season NFL games were higher than an 8.2. Also, we're told last night's Cowboys vs. Redskins telecast on NBC could possibly top The Walking Dead when its final national ratings are released tomorrow. Still, the very fact a cable network series is even in close contention for this claim is pretty incredible, as well as the show continuing to beat all the other entertainment programs.
"Sincere thanks to the fans, who have welcomed The Walking Dead back for its fourth season with the highest-rated episode in the show's history," said AMC President Charlie Collier.
Sunday, October 13, 2013
Hit the high seas for this high-intensity thriller, based on actual events from 2009.
Tom Hanks
stars as Captain Richard Phillips, a Vermont family man and commanding officer of the U.S. container ship
Maersk Alabama
. While transporting commercial cargo and food aid past the Horn of Africa, Phillips and his unarmed
Alabama
crew are attacked by four Somali pirates, led by Muse (
Barkhad Abdi
). Phillips tries to negotiate a peaceful financial solution, but the AK-47-wielding hijackers take him hostage in a tiny lifeboat, triggering a major rescue operation by the U.S. Navy.
1) Pack Your Dramamine: Seventy-five percent of Captain Phillips was shot over 60 days on the open water. Director Paul Greengrass (The Bourne Ultimatum, United 93) — a filmmaker known for his urgent, documentary-style approach — wanted to strive for maximum verisimilitude by shooting on a ship that closely resembled the real Maersk Alabama. Securing an available vessel was no mean feat. So when the Maersk Line identified a similar, underused container ship in the Mediterranean, the production moved to Malta to take advantage.
2) Fishing for the Truth: Hanks prepared for his role by visiting with Richard Phillips himself, who wrote the book A Captain's Duty: Somali Pirates, Navy SEALs, and Dangerous Days at Sea. Though the script is largely based on Phillips' account, the filmmakers wanted to expand the story to reflect the pirates' world. They researched Somali piracy, which began in reaction to industrial overfishing — former fishermen hijacked ships as a source of revenue. Like many criminal activities, piracy then evolved into an organized enterprise run by warlords.
3) Ahoy, Ye Newbies: To fill the pirate roles, the filmmakers focused on the U.S.'s largest Somali-American community, in Minneapolis, Minnesota. An open casting call drew more than 1,000 candidates, including first-time actor Abdi, who landed the plum part of pirate captain Muse. Three of Abdi's friends — Faysal Ahmed, Barkhad Abdirahman, andMahat M. Ali — were cast as his crewmates. To add a level of realism, Greengrass kept the Somali-American actors from meeting Hanks until they shot the scene of the pirates storming the ship's bridge.
4) Pirate Practice Makes Perfect: Prior to filming, the four pirate actors began a rigorous training regimen, comparable to boot camp. They learned how to swim, fight, use guns, handle boats, and work in choppy waves. Their training was crucial for one of the film's most challenging scenes, the taking of the Alabama, which was done without CG effects. The actors had to maneuver a skiff along a moving cargo ship with a tremendous undertow, attach a ladder to the side, and climb aboard, 100 feet above the water.
5) Keeping It Real: The pulse-pounding climax involves multiple helicopters and several Navy ships, including a destroyer that stands in for the USS Bainbridge. The majority of the men seen inside the destroyer's Combat Information Center are real-life officers and seamen, along with two sailors who served aboard the Bainbridge during the 2009 hostage crisis. Navy SEALs are also (literally) dropped into the mix. Aiming again for authenticity, the filmmakers — with the help of a civilian SEAL adviser — enlisted ten former SEALs to play snipers.
After setting box office records last weekend, "
Gravity
" continued its phenomenal by grossing another $44 million. That's down just a jaw-dropping 20% from its opening and is almost unheard of for a film outside the Thanksgiving or Christmas holidays. The Alfonso Cuaron best picture contender has now earned $123.4 million in just 10 days. Surpassing $200 million is a given. Earning over $250 million is likely, but with "Ender's Game" stealing its IMAX screens on Nov. 1 is $300 million out of the question? Something to watch for.
Considering the "Gravity" onslaught, no one would have expected another film to hit over $20 million in October, but another prestige player was able to thrive in the marketplace. Paul Geengrass' "
Captain Phillips
" opened with stellar reviews to an excellent $26 million. That's Tom Hanks biggest debut since 2009's "Angels & Demons" debuted with $46 million and his largest non-"Da Vinci" code opener since "Catch Me If You Can" stole $30 million in 2002. Assuming "Phillips" can duplicate its domestic success overseas, Sony should have no problem making up the film's reported $55 million budget. And if the DVD and download release are timed to the Oscar nominations, it should over perform in ancillaries as well.
Dropping to third was "Cloudy with a Chance of Meatballs 2" which earned another $14.2 million for $78 million to date. With no serious family film competition for weeks, "Cloudy 2" still has a shot to earn well north of $100 million domestic.
Fourth place went to the sequel "
Machete Kills
" which grossed just $3.77 million for new distributor Open Road Films. That total was half of what pre-release polling indicated and far below the $11.5 million the first "Machete" found in 2010 when 20th Century Fox was in charge. It's another puzzling disappointment for Open Road which can only claim "A Haunted House" as a profitable release so far this year.
Speaking of bombs, 20th Century Fox's "Runner, Runner" came to a screeching halt with just $3.72 million in its second weekend. The Justin Timberlake and Ben Affleck thriller has now earned only $14 million in 10 days.
New releases Friday include the remake of "Carrie," "Escape Plan," "The Fifth Estate" and, on just 18 screens, "Twelve Years A Slave.
"
Friday, October 11, 2013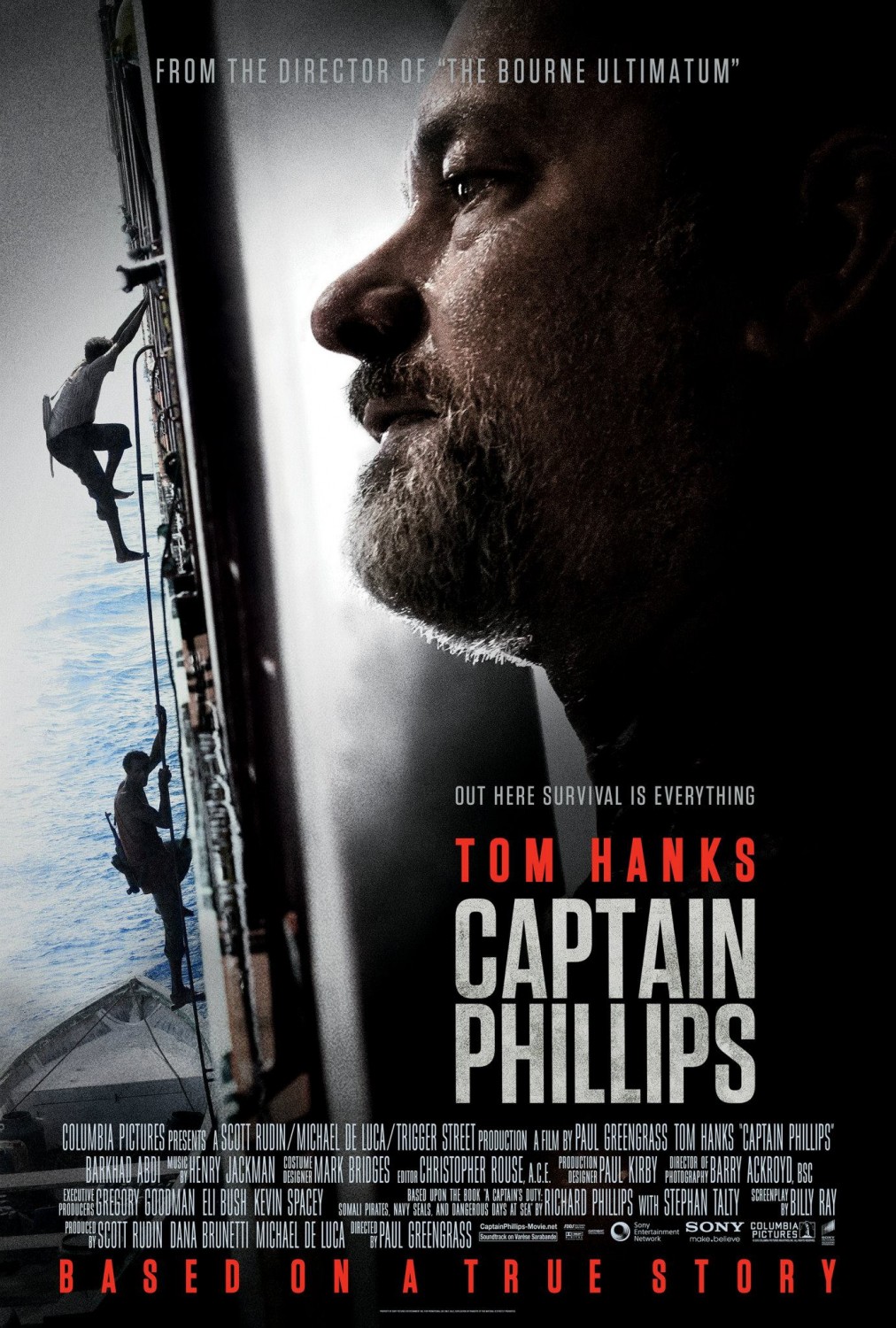 Reviewed by:
Edward Douglas
Cast:
Tom Hanks as Captain Richard Phillips
Barkhad Abdi as Muse
Barkhad Abdirahman as Bilal
Faysal Ahmed as Najee
Mahat M. Ali as Elmi
Michael Chernus as Shane Murphy
Catherine Keener as Andrea Phillips
David Warshofsky as Mike Perry
Corey Johnson as Ken Quinn
Chris Mulkey as John Cronan
Yul Vazquez as Captain Frank Castellano
Max Martini as SEAL Commander
Omar Berdouni as Nemo
Mohamed Ali as Asad
Issak Farah Samatar as Hufan
Directed by Paul Greengrass
Story:
The cargo ship Maensk Alabama, captained by one Richard Phillips (Tom Hanks), is taking cargo down the coast of Africa when it's boarded and taken by four Somali villagers bearing machine guns. Phillips is well-prepared for such an invasion and does what he can to protect his crew, but with the mission not going as planned, they decide to take Phillips hostage aboard a lifeboat.
Analysis:
One of this month's many "ripped from the headlines" movies, "Captain Phillips" tells one of the stories that was all over the news a few years back when Somali pirates were taking cargo ships in order to raise money for local warlords. Doing another tense thriller about hijackers is not a huge stretch for director Paul Greengrass after "United 93," the big difference being that Tom Hanks is in the mix as a recognizable movie star among mostly unrecognizable faces, creating a hostage thriller very different from the ones we've seen previously, like say "Die Hard."
Adapted from Phillips' own recounting of the events by screenwriter Billy Ray, the film starts by slowly introducing Philips as he's making his way to work, having a hunch this latest job won't be routine smooth sailing, so he beefs up security and has the crew drill. What might be surprising is when the film shift its focus to a group of Somali fishermen called upon by a warlord to board and take ships hostage for money. We return to them more a few times before they board the Maensk, which gives us a lot more insight into their motivations and being that Phillips himself wasn't present during the pirates' planning phase before boarding, it's fascinating to see how the film extrapolates their motivations.
Once four of the pirates are able to get onboard, you may think you know where things are going, and knowing the true story does give you some idea, but the story is told in a very different way, one that feels more factual than relying on the normal Hollywood artistic licenses. It does go for a relatively slow build though, especially considering how much time it spends on an extended search for the crew by the pirates once they board.
The only thing that might lessen the impact of Hanks' performance that comes complete with a heavy New England accent, is that it doesn't have as many chances for dramatic bells and whistles until the very end when we see Phillips' steel resolve fade away for some intensely emotional moments. Even so, you quickly move past this being a "Tom Hanks movie" since you become so invested in the overarching story and how it unfolds.
It's hard not to be even more impressed by the inexperienced Barkhad Abdi as the lead pirate Muse, distinctive-looking with his skeletal frame and misaligned teeth, but also exhibiting an impressive range of emotions while creating an incredibly layered character. It's the type of performance one might expect from a far more experienced actor, and it's miles ahead of his Somali peers, including one larger member of the group from another tribe who goes for the bug-eyed shouting movie bad we've come to expect. Even so, the four actors do a great job giving their characters personalities that set them apart from each other, while also giving us more insight into the individuals and showing them to not just be ruthless and greedy.
Eventually, the pirates vacate the ship via a lifeboat, taking Captain Phillips along with them as their hostage, leading to a tense standoff with the Navy, which makes up much of the film's second half. As interesting as it is to see how cargo ships like the Maensk deal with possible boarding by pirates, watching a Navy Seal operation taking effect is far more exciting. Although the movie does shift its focus to the characters trying to rescue Phillips, Greengrass always returns to the lifeboat and its five inhabitants to further the dynamics as Phillips tries to keep tempers cooled down as friction grows between Phillips' would-be kidnappers.
There have been many complaints over the years about Greengrass' fast editing and shaky camera, both which seem somewhat lessened here, although he still uses some of his trademark techniques in giving the film a documentary feel. The score is kept fairly minimal to contribute to that effect as Greengrass proves himself to be a master of pacing by allowing tension to build over the course of slower scenes rather than feeling the need to make every scene explode with intensity.
The Bottom Line:
Paul Greengrass has created another gripping thriller with clear intentions to create as realistic a portrayal of actual events as possible while still keeping the viewer invested using cinematic tension.
Emma Watson is eyeing a leading role in a 20th Century Fox adaptation of Adena Halpern's novel "29,"
Deadline
reports. The plan is for Watson to headline the film version, which will be titled
While We're Young
, with Stephen Chobsky directing. The pair recently worked together on another book-to-screen project,
The Perks of Being a Wallflower
.
Published in 2010, the original novel is officially described as follows:
What if you closed your eyes, blew out the candles and your wish came true?

Ellie Jerome is a young-at-heart 75-year old who relates more to her 25-year old granddaughter Lucy than to her 55-year old daughter Barbara. Ellie's done everything she can to stay young, and the last thing she wants is to celebrate another birthday. So when she finds herself confronted with a cake full of candles, Ellie wishes more than anything that she could be twenty-nine again, just for one day. But who expects a wish like that to come true?
Scott Neustadter and Michael H. Weber, best known for
(500) Days of Summer
and
The Spectacular Now
, are adapting the screenplay.
In development from DreamWorks
for some time
, a proposed
biopic
of Martin Luther King, Jr. appears to be gaining some serious traction today as
TheWrap
reports that Jamie Foxx is in talks to headline with Oliver Stone tentatively planning to direct. Fox and Stone previously teamed for
Any Given Sunday
in 1999.
The film, which features a screenplay by Kario Salem (
The Score
,
Killing Zoe
), will follow the life of King and will mark the first film to be authorized by King's estate, giving the producers the right to utilize King's intellectual property -- including his famous "I Have a Dream" speech delivered during the 1963 March on Washington -- to create a definitive portrait of his life.
Foxx and Stone are no stranger to biopics. The former won an Academy Award for playing Ray Charles in Taylor Hackford's
Ray
, while the latter won one for his 1989 film,
Born on the Fourth of July
. He's also been nominated for the biopics
JFK
and
Nixon
.